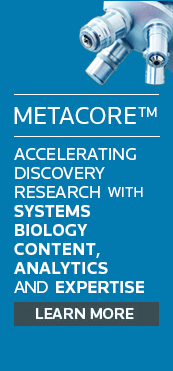 KEY PATHWAY ADVISOR
A Cortellis solution
Key Pathway Advisor (KPA) is a drag-and-drop web application for easy biological pathway analysis of OMICs data. Use KPA to:
Explore the biological meaning of data with only 2 steps and in less than 1 minute.
Predict key protein activity changes (Causal Reasoning analysis) that could be the root cause of the gene expression alterations observed in your data.
See how biological pathways are impacted by your data using state-of-the-art algorithm (Signaling Pathway Impact Analysis - SPIA).
Create hypotheses about new targets, mechanisms of action, biomarkers and disease associations by focusing on the results rather than the analysis process.
Align your results with current knowledge of putative biomarkers and drug targets.
All in one easy reproducible wizard - bioinformatics experience NOT required!
MetaCore™
High quality biological systems content in context, giving you essential data and analytical tools to accelerate your scientific research.
MetaMiner Partnerships
A series of industry-academy partnerships on systems biology of common human diseases and stem cells, led by Clarivate.
MetaDrug™
A leading systems pharmacology solution that incorporates extensive manually curated information on biological effects of small molecule compounds.